LakeBIWA BassFishing GuideService
Tetsuya Ichikawa's LakeBIWA Bass Fishing GuideService
Tetsuya Ichikawa's Bass Fishing GuideService
FishingLicense No.1256
The bass fishing with which I met up at a 1st grader of junior high school is my living center even now.
I was enthusiastic about a tournament and it couldn't be met only in Japan after high school graduation, and for several years, all-America was roamed to experience bass fishing and a bus tournament in the home United States.
Bass fishing guide service is being done featuring Lake BIWA at present. I'll guide you in order to spend one day left for the memory at this attractive lake even if the size in the lake and the size of the bus which can be fished are seen worldwide.
"Such lure is thrown and knocked down for 1 day, and would like to run after a detective bus."
"I'd like to begin fishing now, so, could you tell me from how to throw first?" as far as it's possible from beginner's person to a maniacal person, I'll respond to customer's request.

Contact:ichita.chi@i.softbank.jp  TEL:+8177-596-3823
Guide Gallery
Guide Boat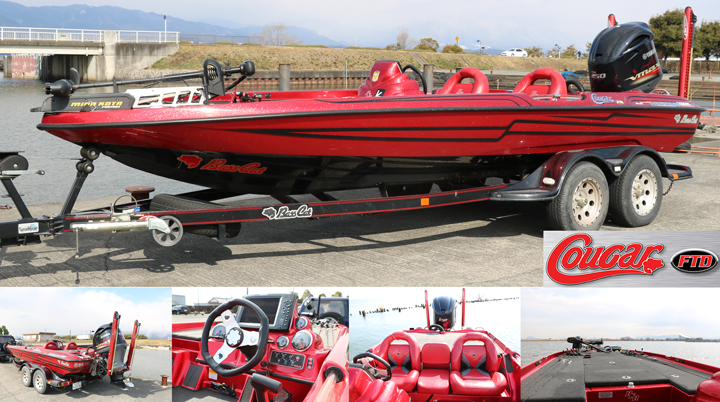 BassCat COUGAR FTD + YAMAHA SHO 250
Bass boat of high-quality BassCat. It's also tied with burdened reduction in body by expensive stability behaviour and driving performance, and you can enjoy fishing comfortably.
Price/Time/Belongings
The guide charge(LakeBIWA the south):Up to 2 people, 35,000 yen
The guide charge(LakeBIWA the north):Up to 2 people, 45,000 yen
The extended charge is 3000 yen an hour.
Time is 8 hours a day (I fluctuate by a season.)
There are a high wave by a storm and sudden weather strange etc. in vast LakeBIWA. When the guide day is a very rough forecast by a forecast until the previous day, I'll do a contact of cancellation from here.

※The cost of lunch isn't included in the above price. Be respectively and please prepare it.
※When using it by more than 3 people, I become a combined tour guide with TAKU guide service.    
※There is a rental tackle. It's rented for free of charge. 
The meeting place
1558-1 shinanakachou kusatsushi shiga 525-0006
Notice
①When guide implementation became difficult by a high wave and bad weather of strong wind for an accident prevention, even departure from port later will sometimes stop guiding.
②A repayment of the guide charge when guide time has been less than 8 hours, will be a stop/a stop after departure from port by bad weather, and becomes bad.
③I meet the request of the south lake request/the north lake request by the weather of the guide day, and I don't sometimes have that. Please accept it.
④We assume that we don't shoulder the responsibility at all about customer's loss of belongings, damage and drainage of ponded water.
⑤About cancellation.
When I can't receive a contact of cancellation by 2 days before of guide day in case of tour guide's cancellation by guest convenience, I'll have 70% of the guide charge as a cancellation fee.

We'll assume that I agreed to the above notice in the time you proposed to a guide.